Ever had afternoon tea on a bus, or even better, a vintage Routemaster bus? Well, now could be our chance to try something different, with a lively gin afternoon tea aboard the Red Bus Bistro. On the big red bus (while remembering the catchy nursery rhyme), guests are treated to a classic afternoon tea, prosecco and, of course, a gin cocktail, as well as unlimited cups of tea and coffee for a wee mid-afternoon pick-me-up.
 Red Bus Bistro has been around Glasgow and Edinburgh since 2014, after purchasing a 1960s Routemaster bus from London. The afternoon tea tours then started to take over Edinburgh after a fully functional kitchen was installed inside the bus, followed by Glasgow in 2016. While the tours aren't brand new anymore, it is always a pleasure to ride on what could be considered "the quintessential symbol of British transport", never mind the gin afternoon tea!
So, get transported back to the 60s and discover Glasgow in a new light during the Red Bus Bistro Afternoon Tea Tour, while admiring your Victoria sponge just as much as Glasgow's Victorian architecture. For £48.90, guests will be treated to a classic afternoon tea or sweet and savoury treats, a glass of bubbly, unlimited tea and coffee and a signature gin pot-tail. The 90-minute tour departs on 36 Shuttle Street adjacent to Amore Restaurant.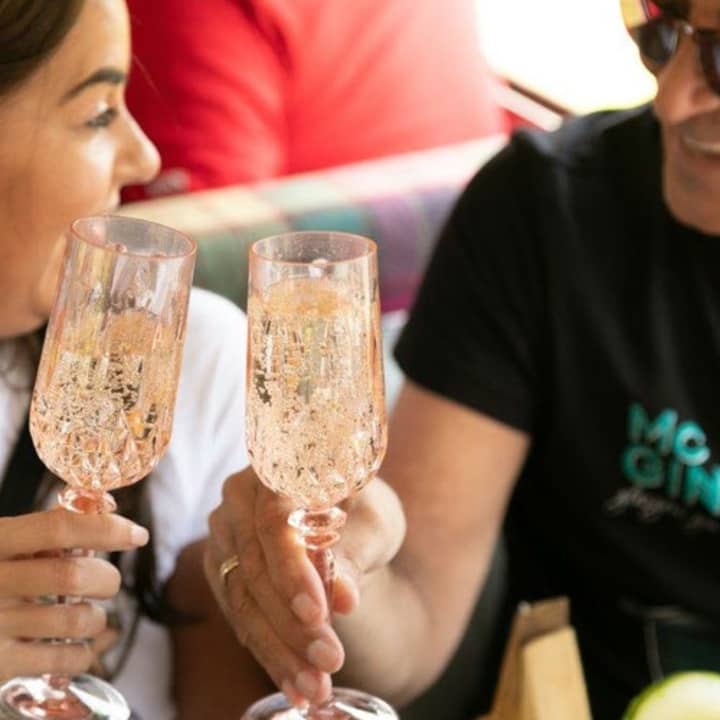 Glasgow Afternoon Tea or Gin Afternoon Tea Experience
The gin pot-tails are made with Scottish gin, made on the spot over ice and topped with some flowers for that extra specialness. Sometimes, guests can even experience live entertainment, such as live music with local artists, drag queens or even a visit from Santa himself during the festive period.
Sharing tables
As one of the UK's friendliest cities, Glaswegians make friends easily and love some decent patter. So, what better way to meet new people than sharing a table over some gin pot-tails, as limited space doesn't always allow for a full table to be free. However, if making friends is not for you that day, a £10 table fee could be required.
Toilet facilities
One might wonder if there are toilets aboard the vintage bus. While there are no toilets aboard, the 90-minute tour stops for a 15-minute comfort break.
So, if this sounds like a bit of you, book your tickets on Fever.
---